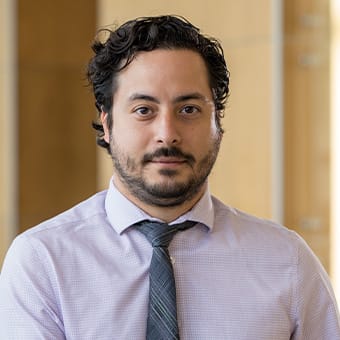 Justin Ganjei, DVM, DACVS-SA
Dr. Justin Ganjei is a MD/VA/DC native. He is a proud Hokie having received both his Bachelor of Science and his Doctorate of Veterinary Medicine from Virginia Tech. Following veterinary school he completed an internship in small animal medicine and surgery and an internship in small animal surgery prior to completing a residency in small animal surgery with Veterinary Surgical Centers. Following completion of his residency, Dr. Ganjei became a diplomate of the American College of Veterinary Surgeons in 2017.
Dr. Ganjei performs a wide variety of both soft tissue and orthopedic surgery, but has a special interest in minimally invasive surgery, interventional radiology, and pain management. He is a strong advocate of advancing veterinary medicine to be able to offer the most up-to-date and highest quality of surgery and medicine while minimizing pain and complications. Dr. Ganjei performs numerous advanced minimally procedures that are not commonly performed, including laparoscopic adrenalectomy, cholecystectomy (gallbladder removal), thoracoscopic pericardiectomy, lung lobectomy, and vascular ring anomaly correction, amongst others.
Through the use of interventional radiology, Dr. Ganjei is able to utilize non-invasive methods of treating complex disorders such as palliative stenting for obstructions of the urinary system, and stenting of the trachea for tracheal collapse as well as provide a means to treat non-operable tumors (ex: liver, bladder, prostate) through the use of embolization and delivery of chemotherapy directly to the tumor through vascular access. He can also perform non-invasive treatment of vascular anomalies, such as intra-hepatic liver shunts.
Dr. Ganjei regularly lectures at numerous national and international veterinary conferences and is a consultant for the Veterinary Information Network. He enjoys teaching and is an adjunct assistant professor of small animal surgery and minimally invasive surgery at his alma matter, the Virginia-Maryland College of Veterinary Medicine. When not performing surgery or teaching Dr. Ganjei enjoys playing with his band and travelling.
Publications
Parker L, Ganjei J, Partial caudal zygomatectomy for zygomatic sialadenectomy in a ferret. Vet Record Case Reports 2022; 1-5.
Mauer E, Maxwell E, Cocca C, Ganjei J, Spector D. Acellular fish skin grafts for the management of wounds in dogs and cats: 17 cases (2019-2021). American Journal of Veterinary Research 2021; 1-5.
Radford A, Bonaventura N, Ganjei J. Combined laparoscopic ovariectomy and laparoscopic-assisted gastropexy utilizing a 2-port technique in 10 dogs. Canadian Veterinary Journal 2021; 1111-1116.
Bonaventura N, Ganjei J, Comparison of outcomes of single-session versus delayed full-thickness meshed skin grafts used to close skin defects following tumor excision of the distal limb in dogs. Journal of the American Veterinary Medical Association 2021; 258:387-394
Ganjei J, Langenbach A, Watrous G, Hodgson J. Comparison of bacterial cultures of the larynx between dogs with laryngeal paralysis and normal dogs. Journal of Small Animal Practice 2016; 644-649.
Song H, Jordan E, Lewis B, Liu W, Ganjei J, et al. Rat model of metastatic breat cancer monitored by MRI at 3 tesla and bioluminescence imaging with histological correlation. Journal of Translational Medicine 2009; 7:88